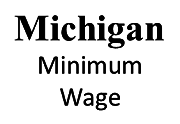 Michigan Employers – Don't Forget to Update Your Michigan Minimum Wage Poster
Starting January 1st of 2016 (right around the corner) Michigan's minimum wage will increase from $8.15 per hour to $8.50 per hour with a corresponding revision to the mandatory minimum wage poster. Keep in mind that this is only the first of multiple scheduled minimum wage increases which will take place over the next few years as required under Michigan's Workforce Opportunity Wage Act. In 2017 the minimum wage will increase to $8.90 per hour and then to $9.25 per hour in 2018. Starting in 2019, the minimum wage will be adjusted annually to reflect inflation.
Employers should consider this an opportunity to review all of their required workplace notices for both state and federal laws to ensure compliance.
Copies of Michigan's Minimum Wage and Overtime poster are available through MIOSHA's website: http://www.michigan.gov/lara/0,4601,7-154-11407_30453_27758-152535--,00.html
If you have any questions regarding this or other required postings, contact Nemeth Law, P.C.
Follow Us
Editors
Contributors
Archive