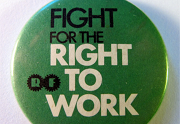 Newly Proposed Legislation Would Subject Right-to-Work to Majority Vote
Two recent bills introduced in the Legislature represent the latest in a line of challenges and proposed amendments to Michigan's controversial right-to-work law. As currently written, right-to-work laws prevent employers from entering into agreements with unions that require employees to pay dues or fees to the union in order to remain employed. If the new bills are enacted, employees could vote to determine whether they want to be covered by right-to-work. If the employees vote to opt-out of right-to-work, then all employees would be required to pay union dues or fees in order to keep their jobs. The requirement to pay union dues or fees would continue until the employees vote to opt back into right-to-work. But, a vote to opt back into right-to-work could only be held at the expiration of the contract with the union or after three years.
Despite Michigan Education Association President Steve Cook's warning in 2013 that "whoever votes for [right-to-work] is not going to have any peace for the next two years," right-to-work has not been as disruptive as initially anticipated. While union membership in Michigan did take an above-average (-1.8%) drop in 2014 (the first full year after right-to-work was enacted), membership increased in 2015 (0.7%) for the first time in over a decade, according to U.S. Department of Labor, Bureau of Labor Statistics surveys. On average, union membership has been declining by approximately 0.5% per year from 2005 to 2015. For the most part, the passage of Michigan's right-to-work laws has not caused serious disruptions to the workforce or labor peace and has not resulted in large numbers of employees revoking their union membership.
With the current composition of the Legislature, it is unlikely that the bills will actually be enacted into law. With the upcoming election, however, the composition of the Legislature could change and the bills could be reintroduced and passed later.
Image credit: commons.wikimedia.org
Follow Us
Editors
Contributors
Archive